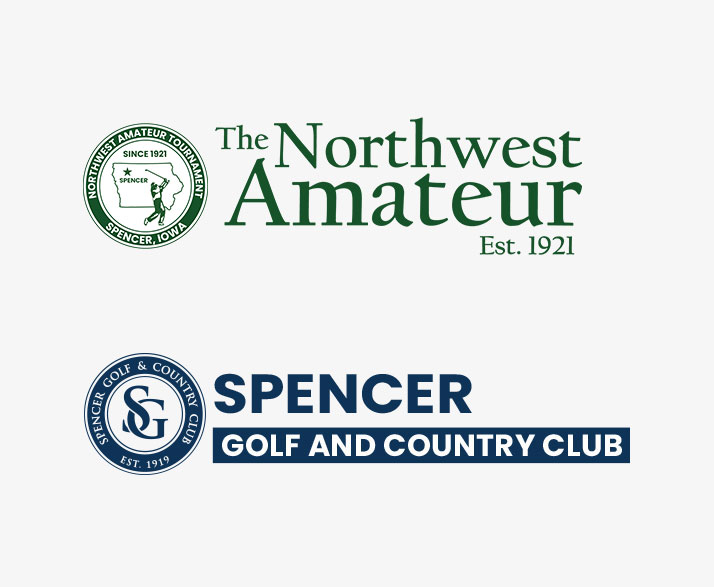 2022 Northwest Amateur
J.D. Anderson of Johnston, IA is the 2022 Northwest Amateur Tournament Champion! With little daylight to spare, Anderson capped off a great tournament by sinking a 25-foot birdie putt on 18 green for a new tournament record score of 22 under par total of 266 (62-65-71-68=266). We congratulate J.D. for his tremendous play and new scoring record and are honored to now have his name on the list of tournament winners.
Dennis Bull of Norwalk, IA played great golf, making every effort to catch Anderson. Bull ended three strokes back with outstanding play of 65-66-71-67 (19 under par). Dennis has been runner-up multiple years, and his year at the top will likely be soon!
Samuel Storey place third overall as was a pleasure to watch. Storey was on the leaderboard from the start of the week, matching Anderson in round one with an amazing 10 under par score of 62. Storey was within one stroke of the lead at one point on the back nine, finishing with a great round of six under 66 in the final round (62-72-72-66).
In the senior divisions, Jon Brown of Adel, IA once again claimed first place in the Senior I Age 50-59 division. Among 68 participants, Brown scored lowest through round one and round two with a 36-hole total of 68-69=137. Jon is the 1992 and 2021 overall tournament champion and was also within one stroke of the lead at a point on the final 9 yesterday, finishing 5th place in the Championship Flight.
In Senior II Age 60 + division, Jay Muller of Omaha, NE claimed first place among 78 participants with a 36-hole total of 72-75=147. Jay was the overall tournament champion in 1991.
We hope to see you all again for next year's tournament to be hosted August 3rd through 6th, 2023!